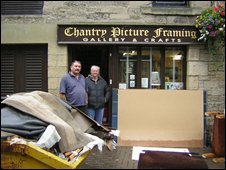 ©Unknown
Shops near the Chantry area were worst affected
The streets of Morpeth are buzzing with activity as clearing up continues after the worst flooding in Northumberland for 50 years.
Rescue and damage stories can be heard on every corner, while many shops and homes still bear the scars of the weekend's downpour.
More than 1,000 properties were affected, and about 400 people were moved to safety when the River Wansbeck burst its banks on Saturday.