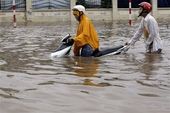 Hanoi, Vietnam - The death toll from several days of flooding in Vietnam rose to 83 on Tuesday as authorities announced they had recovered 17 more bodies.
Disaster officials said they recovered two more bodies in the capital, Hanoi, 12 more in nearby northern provinces, and three more in central Vietnam, areas still suffering from flooding caused by heavy rains last week.
Showers resumed in northern and central Vietnam on Tuesday, and forecasters predicted several more days of rain but said it would be lighter than the downpours that soaked the region over the weekend. The weekend rains in Hanoi were the worst in at least two decades. On Monday, the rains stopped for most of the day and water levels began to recede.