Researchers have uncovered a gene in corals that responds to day/night cycles, which provides some tantalizing clues into how symbiotic corals work together with their plankton partners.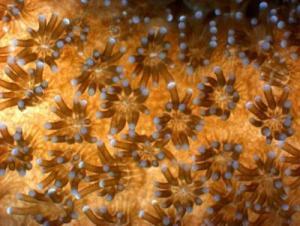 ©Didier Zoccola, Centre Scientifique de Monaco
Polyps of the symbiotic coral Stylophora pistillata.
Corals are fascinating animals that form the largest biological constructions in the world, sprawling coral reefs that cover less than 0.2 % of the seafloor yet provide habitats for more than 30% of marine life. In shallow waters that don't have abundant food, corals have developed a close relationship with small photosynthetic critters called dinoflagellates.
The dinoflagellates use sunlight to produce energy for the coral, which in turn use that energy to construct mineralized skeletons for protection. The mineral production, known as coral calcification, is closely tied with the day/night cycle, though the molecular mechanism behind this synchronization is mysterious.