A vast chunk of Earth sliding under Mexico has surprisingly reversed direction, puzzling geologists and leaving them wondering whether the ground might be poised to pummel Mexico City with a devastating earthquake.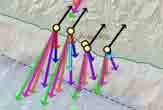 ©CU-Boulder
A reversal of tectonic plate motion near Acapulco and Guerrero, Mexico, in the second half of 2006 (colored arrows) as measured by GPS satellites. Mexico City is about 175 miles from Guerrero.
The offshore tectonic plate had been sliding toward Mexico City at a rate of 1 inch per year, as recorded by Global Positioning System measuring stations near Acapulco and Guerrero, which is about 175 miles southwest of Mexico City.