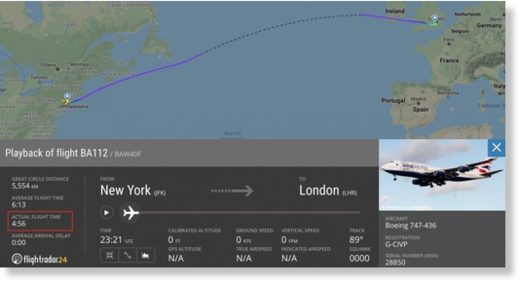 The currently ongoing very dynamic pattern over North Atlantic and Europe resulted in some remarkable records within commercial flights! The Boeing 747 of British Airways (flight BA112) from New York on its way to London most likely set the new subsonic flight speed record of travel time across the North Atlantic.
Due to the exceptionally favorable wind within the powerful westerly jet stream, it arrived in London in just 4 hours and 56 minutes. Normally, the average travel time between New York and London is around 6 hours and 13 minutes.
According to Flightradar24, if this data is confirmed, the British Airways now retakes the fastest subsonic New York-London crossing from Norwegian airliner.
See what a violent jet streak can produce over the North Atlantic - a very dynamic pattern and therefore deep cyclones with significant sea waves towards western Europe: