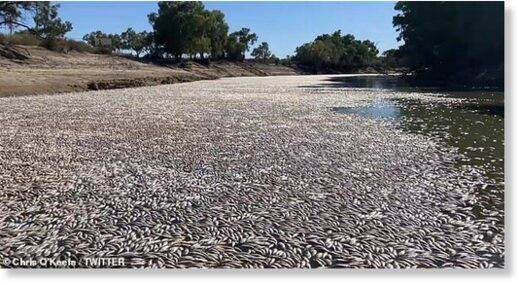 Millions of fish have died in another mass kill in the lower Darling-Baaka river near Menindee, in New South West's far west.
Photos supplied by Menindee residents show dead fish - mostly bony bream, but also Murray cod, golden perch, silver perch and carp - blanketed across the river's surface.
It is the latest in a series of large-scale fish deaths that have prompted questions about the management of water levels in the Murray-Darling Basin. Menindee residents who spoke with
Guardian
Australia on Friday said
the latest fish kill appeared larger than previous mass deaths.
About a million fish died during a sustained drought in the same area in 2019 after a rapid drop in temperature led to an algal bloom de-oxygenating the river.
Resident Graeme McCrabb said the scale of the mass kill on Friday was "unfathomable".
"It's horrendous here today," he said, speaking from the riverbank about 5km upstream of Menindee. "The river is just white.
I'm looking at probably a kilometre or a kilometre-and-a-half of fish and they're all dead. It's unfathomable."