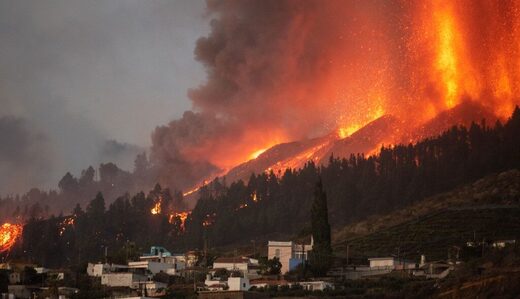 At least 20 homes destroyed and people told to stay away as lava pours from volcano on Spanish island
Authorities on the Canary island of La Palma have told spectators to stay away from the continuing volcanic eruptions that have forced the evacuation of 5,500 people and destroyed at least 120 homes since Sunday afternoon.
The island had been on high alert after more than 22,000 tremors were reported within a week in Cumbre Vieja, one of the most active volcanic regions in the archipelago.
Officials had begun evacuating the infirm and some farm animals from nearby villages before the eruption at 3.15pm local time on Sunday on a wooded slope in the sparsely populated Cabeza de Vaca area, according to the government.
Two hours later, with lava edging down the hillside from five fissures, the municipality ordered the evacuation of four villages, including El Paso and Los Llanos de Aridane.