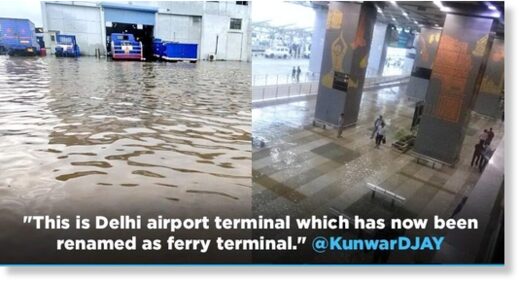 The forecourt of the Delhi airport was water-logged for a "short period" on Saturday morning due to sudden heavy rains, its operator Delhi International Airport Limited said.
As per reports, the Safdarjung observatory has now recorded a total of 1,100 mm of rainfall this monsoon season in the National Capital. Breaking the record of a seasonal rainfall of 2003 when 1050 mm rainfall was recorded, this is now the highest record of rainfall in the city in the last 46 years — after 1975, when the season had a total of 1150 mm rainfall.
Sources said five flights were diverted from the airport in the morning due to the bad weather conditions.
The Delhi International Airport Limited (DIAL) said on Twitter that "due to sudden heavy rain, for a short period, there was waterlogging at the forecourt".
"Our team was immediately aligned to look into it and the issue has been resolved," it added.