Earth Changes
---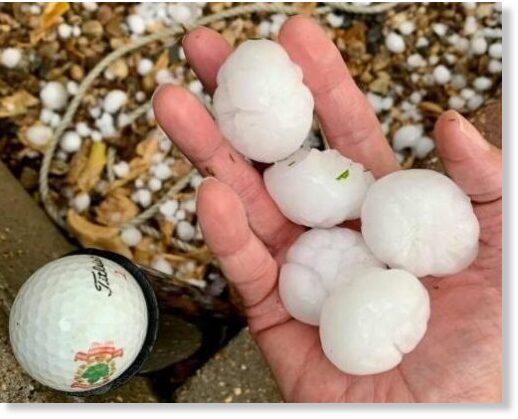 Assiniboia, Sask., residents are experiencing a bit of déjà vu after a hail storm pummeled the southern Saskatchewan town Tuesday morning.
Pea-sized to golf ball-sized hail dropped down around 8:30 a.m., trapping the town's mayor, Sharon Schauenberg, in her car for about 20 minutes.
"It just all of a sudden came upon us; this dark, dark cloud and boom — it opened up," she said, adding the storm seemed to be localized to just the town.
The hail shredded trees, covering the town's streets with branches and leaves, according to Schauenberg.
---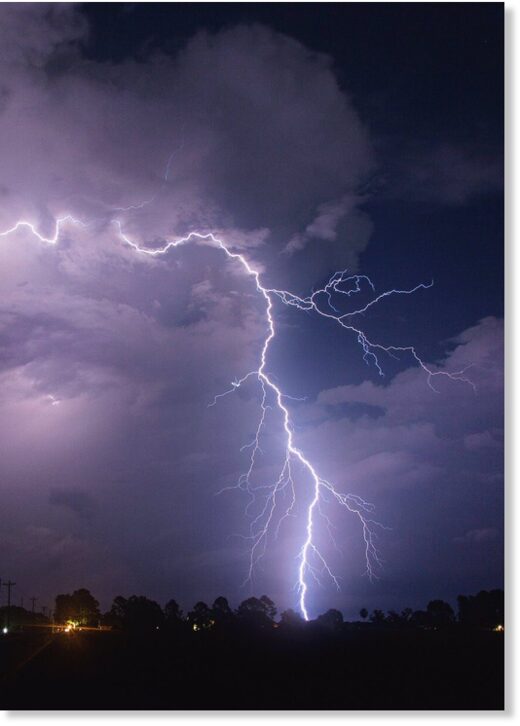 Three people were killed and seven others injured in separate incidents of lightning strike in Uttar Pradesh, officials said here on Wednesday.
While 21-year-old Preeti died after lightning struck her in Makarbai village on Tuesday afternoon, two farmers identified as Narendra and Bhagwan Das died in similar incidents in Gyodi and Bijrari villages respectively, they said.
In Kamlapura village, seven women working in a field were injured when lightning struck them, they said.
Source: PTI
---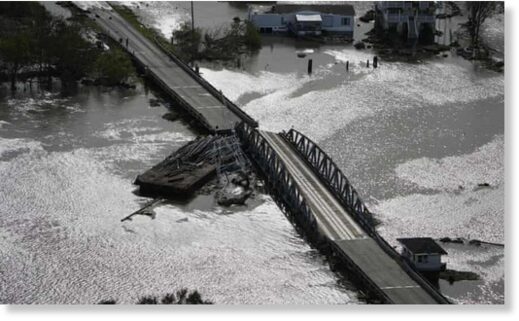 Two people died and at least 10 were injured when their vehicles plunged into a deep hole where a highway collapsed after Hurricane Ida blew through Mississippi.
Torrential rain may have caused the Monday night collapse.
The deaths in Mississippi took the toll from Ida to four. In Louisiana, one person died in floodwaters and one was killed by a falling tree.
In Slidell, Louisiana, crews were searching for a 71-year-old man whose wife said he was attacked by an alligator in the floodwaters.
She pulled him to the steps of the home and paddled away to get help, she said, but when she returned, he was gone.
---
Richard Davies
Floodlist
Wed, 01 Sep 2021 18:09 UTC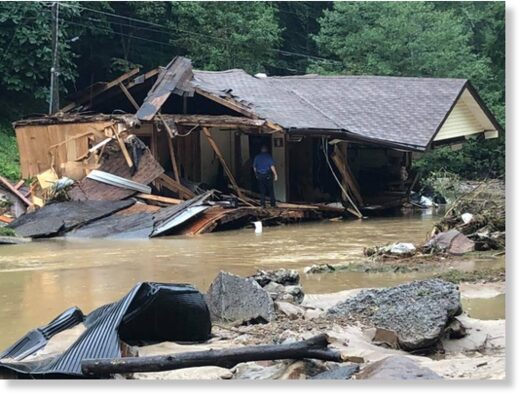 Governor Ralph Northam declared a state of emergency in Virginia on 31 August after rain brought by the remnants of Hurricane Ida caused devastating floods and mudslides with more severe weather forecast.
Raging flash floods and mudslides swept through parts of Buchanan County, Virginia, on 31 August 2021. More than 20 homes were destroyed in the small community of Hurley situated in a valley along Knox Creek. Around 60 people were evacuated with some taking shelter in a local church. Four people were initially reported unaccounted for but 3 have since been located. Buchanan County Sheriff's Office said as of 31 August that one person was still missing.
"This afternoon, several inches of rainfall led to flooding and landslides that caused extensive damage and restricted access to homes in the Hurley Area," Buchanan County Sheriff's Office said.
---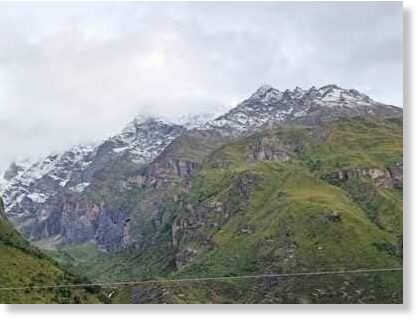 Due to the rain in the hilly areas of Uttarakhand for the last few days, the cold has gradually started increasing in the mountains.
Along with this,
snowfall has also started in the higher Himalayan regions.
The first snowfall of the season occurred on the peaks of Badrinath on Tuesday morning.
Until now, Nandashtami (September 13) was considered to be the beginning of winter.
But this year snowfall has started in the high Himalayan regions already a fortnight earlier.
---

Only four glacier ski areas are currently open as we enter September, but there should be nearer a dozen operating by the end of the month.
Last year the autumn openings of glaciers happened ass usual after the first wave of the pandemic, and there were actually huge early snowfalls up high. However already-open ski resorts in Austria, France and Italy were forced to close from late October due to the second wave of the virus and although Austria re-opened in January, and Swiss and Scandinavian ski centres stayed open throughout, travel bans meant few people made it on to the slopes. Those who skied or boarded in September and October 2020 were therefore among the lucky few.
So far there have been several August snow dustings on glaciers in the Alps,
the good news is
the snowfall has been getting heavier in recent days.
Pictured top is snowfall at the Zugspitze Glacier, Germany's highest ski area, last weekend.
It is hoping to open for its 21-22 season on November 18th after missing last season entirely.
---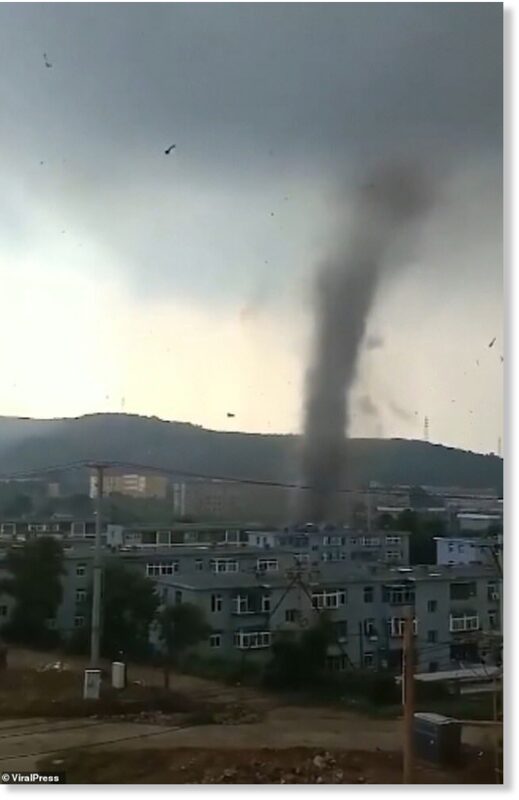 Dramatic footage has captured the moment a powerful tornado ripped through a Chinese city, uprooting trees, flattening streetlights and destroying cars.
At least 50 homes were damaged when the terrifying twister collided with buildings in Huludao city, in China's northeastern province of Liaoning, on August 25.
Footage filmed by a resident from inside their flat shows the air column rapidly gaining strength as it spiralled closer, sweeping debris up into the air.
The tornado lasted for about a minute but damaged more than 50 houses, uprooted trees, and knocked over street lights.
One person was injured and was sent to the hospital for treatment.
---
NDTV
Wed, 01 Sep 2021 10:59 UTC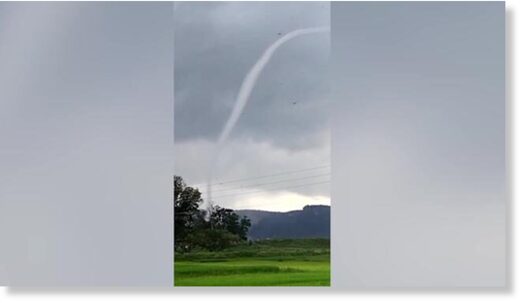 Visuals of a water spout at a dam in Madhya Pradesh, shot by villagers, have gone viral on social media.
The water spout was sighted on Monday at Devri dam in Sidhi district, around 500 km from state capital Bhopal.
A column of water from the dam almost appeared to touch the sky in mobile phone videos that have been shared on social media.
According to reports, the water spout formed after a storm around 4 pm and lasted for about 15 minutes before falling back into the dam. It was likened to a "water tornado" by many.
The spectacular sight drew scores of people from local villages.
---
RT
Mon, 30 Aug 2021 10:36 UTC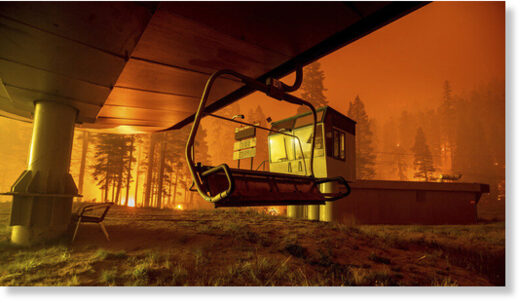 Fresh evacuation orders have been issued in the resort city of South Lake Tahoe, California, as a devastating wildfire closes in. Meanwhile, fires to the south of Los Angeles have whipped up intense tornadoes of flame.
Residents of South Lake Tahoe, a resort town on the Californian side of the lake straddling the state's border with Nevada, were ordered on Monday to head east, as law enforcement officers went door to door to make sure everyone complied.
The order was given as the Caldor Fire - one of 20 large wildfires currently burning in the Golden State - closed in.
Photos from South Lake Tahoe showed smoky air, and pictures from the Sierra-at-Tahoe resort 12 miles (19km) to the south showed firefighters, aided by the resort's snow cannons, desperately trying to hold back the inferno.
---