Research from Utrecht University shows that there is an organic-rich bed of sediment in the floor of the Eastern Mediterranean. This bed formed over a period of about 4000 years under oxygen-free bottom-water conditions.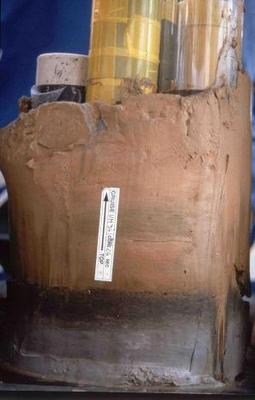 ©Netherlands Organization for Scientific Research
A sediment sample used for this research. The dark-green bed is organic-rich sediment from sapropel S1.
A wet climatic period was responsible for the phenomenon. According to climate scenarios, the climate may become wetter in this area, potentially giving rise again to a period of oxygen-free bottom-water.
Alternating organic-rich and organic-poor beds have been deposited on the floor of the Eastern Mediterranean. These deposits coincide with the alternation of wet and dry climatic periods. Researchers believe that the organic-rich beds, called sapropels, can originate in two ways:
More organisms live in the surface water because, for example, rivers introduce more nutrients. As a result, more organisms sink to the bottom when they die.

The organic material is better preserved. If dead organisms sink to an oxygen-free bottom, the organic material breaks down less well.