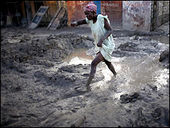 Nearly 800 people in Haiti were killed in four major storms which devastated the country in August and September, officials have said.
More than 300 people were missing, the civil protection agency said.
Hurricanes Gustav and Ike and tropical storms Hanna and Fay killed 466 people in Gonaives, the hardest hit city.