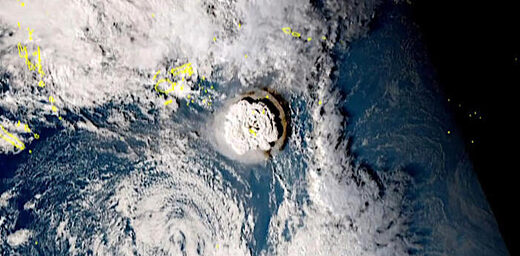 Early data from Tonga's violent volcanic eruption suggests it is the biggest since Mount Pinatubo in the Philippines 30 years ago, volcanologist Shane Cronin says.
The eruption of the underwater
Hunga Tonga-Hunga Haʻapai volcano, about 65km north of Nuku'alofa, on Saturday shot thick ash and steam 20km skywards.
University of Auckland volcanologist Professor Shane Cronin
said scenes on the ground would have
appeared apocalyptic after the eruption: ash clouds blotting out the sun, thunderclaps of booming shockwaves and thousands of lightening strikes.
"The clouds that people could see in the distance, the booming noises and then the waves coming from the first tsunami...The next step is when the ash clouds spread across Tongatapu, and that ash cloud is so dense with fine ash particles that it blocks the sun completely, so it gets really dark."
Cronin said rain, small pebbles and many centimetres of ash would have rained down.
"This is an eruption best witnessed from space," he said.