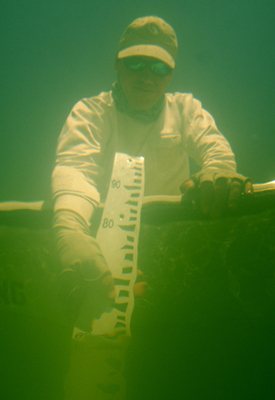 ©Daivd Walters / Miami Herald Staff
Peter Frezza, a biologist with Audubon of Florida's Keys office, measures water clarity on the Twin Key banks. The photo was taken from just below the surface and reveals the water's green tinge as a result of the algae bloom in parts of Florida Bay.
Algae has turned Florida Bay's waters a murky green, threatening the ecosystem below. What's causing the sudden blooms isn't clear.
Only a day earlier, the heart of Florida Bay's world-renowned fishing ground was clear enough to count turtle grass blades six feet down. Now, Pete Frezza stared into water so thick with algae it looked an awful lot like pea soup.
Stick an arm in and you wouldn't see your hand.