ORANJESTAD, Aruba - Hurricane Felix rapidly strengthened into a dangerous Category 5 storm Sunday and churned its way into the open waters of the Caribbean Sea after toppling trees and flooding some homes on a cluster of Dutch islands.
Felix was packing winds of up to 165 mph as it headed west, according to the U.S. National Hurricane Center. It was projected to skirt Honduras' coastline on Tuesday before slamming into Belize on Wednesday.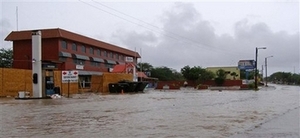 ©AP Photo/Pedro Diaz
Water floods a street after the heavy rains of Hurricane Felix passed over Oranjestad, Aruba, Sunday, Sept. 2, 2007.