www.stormx.com/agriculture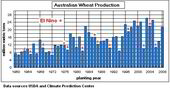 The Climate Prediction Center June 4th issued an El Niño alert indicating that "Conditions are favorable for a transition from ENSO-neutral to El Niño conditions during June − August 2009."
El Niño occurs when sea surface temperatures warm up in the central equatorial Pacific Ocean, but this is only one aspect of a broad scale shift in wind, air pressure and rainfall patterns that alters the climate in the tropics and sub-tropics.
A classic symptom of El Niño is drought in Australia wheat states New South Wales and Victoria
.
Below is a look at Australia wheat production in years when El Niño was in effect. Production was low in 11 out of 14 cases and seemed worst in the second year of a 2-season episode (1976-77 and 1986-87). Really severe damage occurred in recent El Niño cases 2002 and 2006 when less than half a normal wheat crop was gathered.