Forest fires raged unabated today on the Peloponnese peninsula of southern Greece, killing at least 51 people as flames threatened historic sites including Ancient Olympia.
"We are dealing with a national catastrophe, without precedent," said Niakalaos Diamantis, a fire service spokesman.
The Greek Health Ministry announced this morning that the death toll had climbed past 50, putting it among the world's deadliest forest fires of modern times.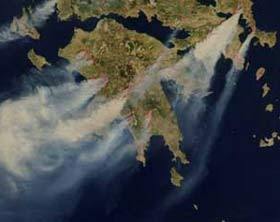 ©AP
Fires in Greece as captured by NASA satelite