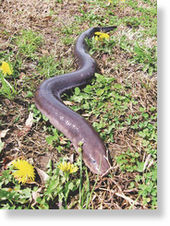 "What in the world is that? A snake, eel, possibly a salamander?"
These are the questions that likely traveled through the mind of a Dunklin County resident who recently located a strange looking creature in a ditch positioned in the front yard of his home.
According to local Missouri Department of Conservation Agent, Eric Heuring, he recently visited the area residence to exam the animal and found himself, like the homeowner, in awe.
"After arriving at the residence and taking a look at it, I found myself speechless," Heuring said of the strange find.
It turns out that the once unidentified creature is actually Missouri's longest salamander, a Three-toed Amphiuma, growing to more than 30 inches.