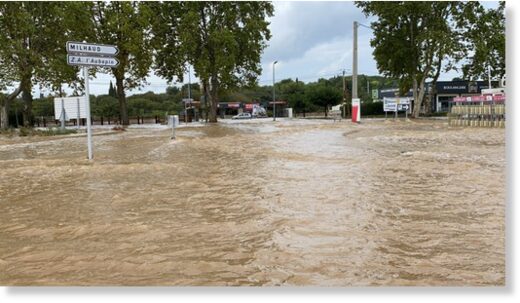 Torrential rainfall of 244 mm in just 3 hours caused flooding in parts of Gard Department in southern France on 14 September 2021. Dozens of people were rescued and one person is reported missing.
Hundreds of firefighters were deployed to the area and carried out 450 interventions. The departmental government of Gard said one person is missing in the town of Aimargues after falling into the Le Rhôny river.
Around 30 people were rescued - some by helicopter - after vehicles were trapped on the A9 motorway in the communes of Langlade and Gallargues le Montueux.
At least 10 people were airlifted to safety by helicopter in the municipality of Aigues-Vives, one of the hardest hit areas. Rescues were also carried out in the towns of Uchaud, Bernis, Calvisson and Boissieres. Part of a building collapsed in Caissargues. No injuries were reported.