Earth Changes

Comment: Interesting that, just recently, a Giant Squid was caught by Japanese researchers and now a Colossal Squid has been caught. Is something driving these squid up from their deep water ranges?


---
Mozambican army officer looks through a helicopter window as it flies above the flooded area near Caia, northern Mozambique
Floods have already forced tens of thousands from their homes
Mozambican authorities have put the country on the highest level of alert, as it waits for an approaching cyclone.

The cyclone, named Favio, is predicted to arrive on Wednesday with winds of up to 175km/h (109m/h).
---
An earthquake that shook parts of Uganda early yesterday morning for about 15 seconds, coincided with another in southern Taiwan in the Pacific Ocean.

The United States Geological Survey said the quake measured 5.7 on the Richter scale, and said a similar quake had occurred around the same time in Taiwan. The seismological station in Entebbe measured it at 5.2.
---
It wasn't "experts" who figured out that when a canary stops singing and starts teetering on his perch, its time to get out of the coal mine. Not surprisingly, the "experts" claim they cannot determine conclusively why reports from all over the world describe flocks of birds dying by the thousands. The forensic sciences have improved to a point that causes of death can be accurately determined upon autopsy - if the death is not political. Recent bird kills have been reported in Idaho, Texas, New York, New Jersey, Australia, Turkey, SE Asia and Africa. Though the dead birds in SE Asia, Turkey and Africa have been blamed on "bird flu," the causes of death remain mysteries in the U.S. and Australia.
---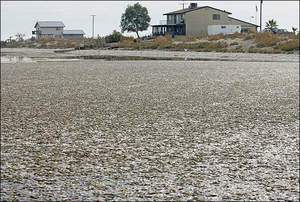 ©Desert Sun
Cold snap [
or global COOLING?
] blamed for winter die-off
Last month's cold snap has caused waves of dead fish to flood shores along the Salton Sea in a rare winter die-off.
It's unclear how many of the sea's estimated 200 million fish perished, but hundreds of thousands of rotting fish floated along the shoreline at Desert Shores on Friday.
"It smells worse than cow (manure)," Desert Shores resident Chuck Friedly said Friday.
---
BBC
Wed, 21 Feb 2007 08:16 UTC
Australia has announced plans to ban incandescent light bulbs and replace them with more energy efficient fluorescent bulbs.

The environment minister said the move could cut the country's greenhouse gas emissions by 4 million tonnes by 2012.

"It's a little thing but it's a massive change," Malcolm Turnbull said.

The decision will make Australia the first country to ban the light bulbs, although the idea has also been proposed in the US state of California.
---
DENVER - Thousands of travelers heading to ski areas for the holiday weekend were stalled by giant traffic jams Saturday as highways were blocked by crews removing snow slides.

One avalanche at Berthoud Pass on Highway 40, the main road to the Winter Park ski resort, knocked a state maintenance vehicle off the road during the night, said Colorado Department of Transportation spokeswoman Stacey Stegman.

That pass was the scene of an avalanche last month that knocked two vehicles off the road and stranded several motorists. No injuries were reported because of snow slides or avalanche mitigation.
---
A few months ago, the clear blue Pacific Ocean waters off the coast of Oregon suddenly turned a thick greenish brown. A swell of nutrients produced a bizarre blooming of plankton that reached levels never seen before by scientists. Then the plankton died and sank, causing oxygen levels in the water to plummet to zero.
The living ocean was transformed into a dead zone.
Scientists conducted a submarine survey and found only the bodies of crabs and marine worms scattered across the ocean floor. There were no signs of any fish. Nothing had survived the cataclysm.

Nor has this been the only such disaster to strike a marine ecosystem in recent years.
As scientists reported at the annual meeting of the American Association for the Advancement of Science in San Francisco yesterday,
unprecedented changes to ocean currents
are having a devastating effect on finely balanced marine ecosystems all over the globe. Similar upheavals have been recorded in other parts of the world, particularly off South America and Africa.
Comment:
A signs of the times, indeed. It is not only that marine life is dying, but the potentially catastrophic consequences of a disturbance in ocean currents. Read
'Wake the World Up Campaign'
for more on that topic.
---
NEW YORK - Blowing snow and sleet glazed windshields and roads across the Northeast and the Midwest on Wednesday, messing up Valentine's Day flower deliveries and wrecking couples' plans for romantic dinners.

The storm grounded hundreds of flights and forced the closing of schools and businesses from Kentucky to Maine. Many of those stuck at home had no heat or lights because of blackouts that affected more than a quarter-million customers.
---
HAMBURG, Pa. - A thick layer of ice kept major highways closed Friday morning, a day after hundreds of drivers became stranded on a hilly stretch of eastern Pennsylvania that had been hit by a monster storm.

National Guard troops used Humvees to ferry in food, fuel and baby supplies on Thursday to the lines of motorists caught in a 50-mile traffic jam on Interstate 78. Friday morning, the troops were busy towing away the remaining vehicles while road crews struggled to melt ice that had built up four to six inches in places.
---