That's the number of scientists who are outraged by the Kyoto Protocol's corruption of science.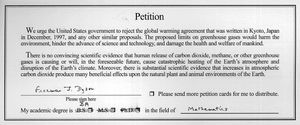 How many scientists does it take to establish that a consensus does not exist on global warming?
The quest to establish that the science is not settled on climate change began before most people had even heard of global warming. The year was 1992 and the United Nations was about to hold its Earth Summit in Rio. It was billed as - and was - the greatest environmental and political assemblage in human history. Delegations came from 178 nations - virtually every nation in the world - including 118 heads of state or government and 7,000 diplomatic bureaucrats. The world's environmental groups came too - they sent some 30,000 representatives from every corner of the world to Rio. To report all this, 7,000 journalists converged on Rio to cover the event, and relay to the public's of the world that global warming and other environmental insults were threatening the planet with catastrophe.
In February of that year, in an attempt to head off the whirlwind that the conference would unleash, 47 scientists signed a "Statement by Atmospheric Scientists on Greenhouse Warming," decrying "
the unsupported assumption that catastrophic global warming follows from the burning of fossil fuels and requires immediate action.
"