But years of drought, which some blame on global warming, have savagely depleted the huge dams built 60 years ago to hold the snow melt from the Australian alps and push it hundreds of kilometers inland to the parched west for farm irrigation.

The Murray-Darling normally provides 90 percent of Australia's irrigated crops and A$22 billion ($18.1 billion) worth of agricultural exports to Asia and the Middle East.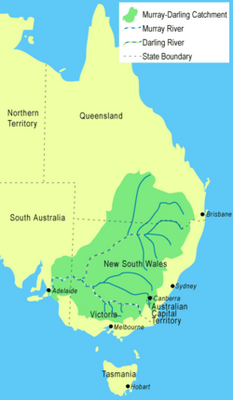 ©Unknown
Murray-Darling Basin.


But with some crops now just 10 days from failure, farmers are to receive no water at all for irrigation through the summer, while others will get a fraction of their regular entitlement to keep alive vital plantings like citrus trees and grapevines.