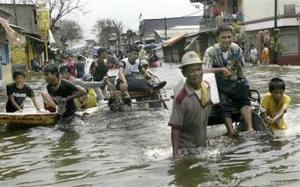 ©AP Photo/Irwin Fedriansyah
Indonesians wade through a flooded street in North Jakarta.
Jakarta, Indonesia - Indonesia's environment minister said Tuesday that global warming was to blame after the capital of Jakarta was partially flooded, forcing thousands of people to flee homes and cutting off a highway to the international airport.
Authorities used pumps to lower water levels, which reached six feet in the worst-hit areas and washed more than a mile inland Monday, said Iskandar, an official at Jakarta's flood crisis center. At least 2,200 houses were inundated, some with chest-deep water.