Sydney: A rare meteorite impact crater in remote Western Australia has been discovered by an Australian geologist using Google Earth.
The Hickman Crater, located in the Pilbara region around 1000 km northeast of Perth, was named for its discoverer, Arthur Hickman, who was using Google Earth to conduct research on channel ore deposits.
If confirmed, the Hickman Crater will be Australia's second largest preserved rim crater - one that has not eroded significantly from its original shape. The crater's rim, which is 80 per cent preserved, stands 30 m above its floor, and consists mainly of rhyolite, a rock similar to granite.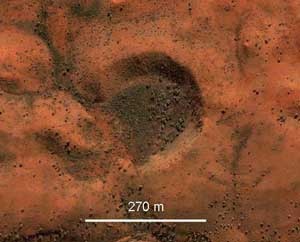 ©Google Earth
The Hickman Crater as viewed from satellite