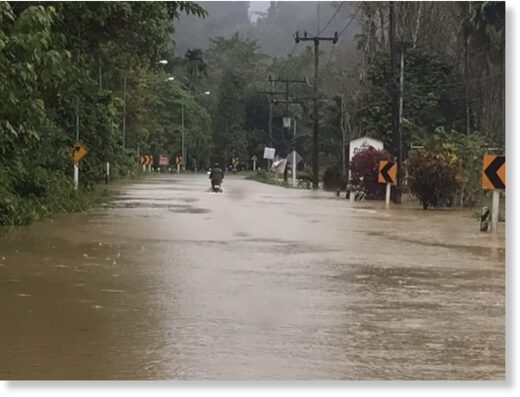 Areas of southern Thailand recorded more
than 500 mm of rain in 24 hours on 18 December 2022.
Thailand's Department of Disaster Prevention and Mitigation (DDPM) flooding in the southern provinces of Surat Thani, Nakhon Si Thammarat, Trang, Phatthalung, Satun, Songkhla, Pattani, Yala and Narathiwat. A total of 49 districts and 51,543 households have been affected.
The hardest hit areas were Narathiwat, Nakhon Si Thammarat and Songkhla Provinces.
In Narathiwat, 3 people died after being swept away by flood waters, DDPM said. Almost 30,000 households across 13 districts have been affected by flooding.
Affected districts include Sukhirin, Si Sakhon, Rueso, Ra-ngae, Chanae, Mueang Narathiwat, Cho-airong, Su-ngai Padi, Bacho, Waeng, Su-ngai Kolok, Tak Bai and Yi-ngo.