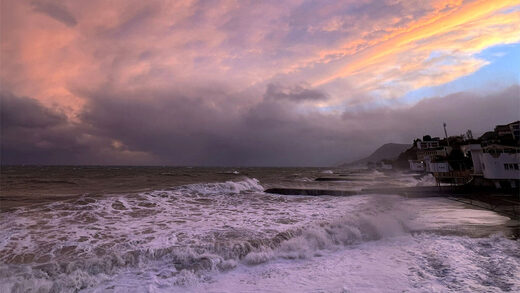 A severe storm on the Black Sea hit parts of Ukraine and southern Russia on Sunday night, killing at least
four
people and knocking out power to nearly 2 million, with strong winds continuing into Monday.
"About 1.9 million people remained without power supply as of 10:00 Moscow time due to unfavorable weather conditions,"
Moscow's energy ministry said, listing the Russian regions of Dagestan, Krasnodar and Rostov, as well as the occupied Ukrainian regions of Crimea, Donetsk, Luhansk, Kherson and Zaporizhzhia.
The storm peaked on Sunday evening, with some parts of Russian-annexed
Crimea
receiving
33 millimeters of precipitation and winds reaching speeds of 144 kilometers per hour.
As waves up to 8 meters high
battered
the coast, crude oil loading was halted on Russia's Novorossiysk oil terminal and the nearby Caspian Pipeline Consortium terminal — leading Kazakhstan, which exports through the CPC, to reduce oil production by nearly 15% compared to the day earlier,
reported
Bloomberg.