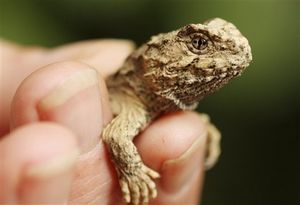 A hatchling of a rare reptile with lineage dating back to the dinosaur age has been found in the wild on the New Zealand mainland for the first time in about 200 years, a wildlife official said Thursday.
The baby tuatara was discovered by staff during routine maintenance work at the Karori Wildlife Sanctuary in the capital, Wellington, conservation manager Raewyn Empson said.
"We are all absolutely thrilled with this discovery," Empson said. "It means we have successfully re-established a breeding population back on the mainland, which is a massive breakthrough for New Zealand conservation."
Tuatara are the last lizard-like descendants of a reptile species that walked the Earth with the dinosaurs 225 million years ago, zoologists say.