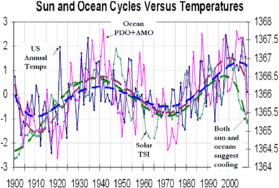 Icecap Note: My presentation at the ICCC 2009 conference related to both data integrity and the cycles (averaging around 60 years) of the sun and oceans which fit like a glove with temperatures. I had to leave out the Arctic which exhibits the identical behavior because of time limitations.

I received a copy of this PDF from the authors of a book that discovered a 60 year cycle and a strong relationship with fish productivity, after they saw the presentation on-line and how well it fit with their book "Climate Changes and Fish Productivity". Here are some relevant excerpts of their excellent book PDF (here):
Recently, 60-70 year repeating alterations of hemispherical and global climate were detected [Schlesinger, Ramankutty, 1994; Minobe, 1997, 1999, 2000]. Temperature sequences for the recent 1500 years, reconstructed from Greenland ice core samples, show domination of approximately 60-year periodicity of the climate fluctuations [Klyashtorin, Lyubushin, 2003; Klyashtorin, Lyubushin, 2005]. For the same period, similar (50-70 year) temperature periodicity was detected in the analysis of long-living tree annual growth rings in the Arctic region and California. Reconstruction of sardine and anchovy population fluctuations by analysis of scales in bottom sediments in Californian upwelling for the latest 1700 years has indicated their approximately 60-year periodicity [Baumgartner et al., 1992].