Bluetongue is a mysterious disease, with no suitable vaccine, but there are still reasons for optimism for British farmers, despite the case at a Suffolk farm.
If bluetongue were to take hold in Britain it would change the landscape.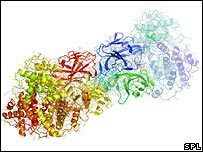 ©SPL
The virus is of the same type as northern Europe suffers.
Anywhere which has hills dotted with sheep would be devastated. The strain of the disease found at a rare breeds farm in Suffolk has come from northern Europe.