The ancient flood that some scientists think gave rise to the Noah story may not have been quite so biblical in proportion, a new study says.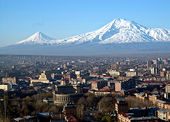 Researchers generally agree that, during a warming period about 9,400 years ago, an onrush of seawater from the Mediterranean spurred a connection with the Black Sea, then a largely freshwater lake. That flood turned the lake into a rapidly rising sea.
A previous theory said the Black Sea rose up to 195 feet (60 meters), possibly burying villages and spawning the tale of Noah's flood and other inundation folklore.
But the new study - largely focused on relatively undisturbed underwater fossils - suggests a rise of no more than 30 feet (10 meters).