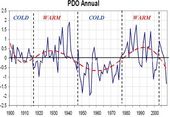 There are signs our weather is taking a time machine ride back to the regimes of the 1960s or even the late 1700s early 1800s. Our climate operates in cycles, which favors different regimes of weather. We have come out of a few decades that thanks to a warm Pacific resulted in a dominance of El Ninos and its typical southern storm tracks and warm, dry western North America.
The
Pacific has cooled
and now favors La Ninas, which have dominated the last two winters. This has resulted in a more northern storm track (and as we reported in earlier stories (
here
and
here
and
here
), record monthly or seasonal snows).