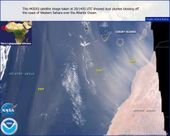 Astronomers have made an unexpected find using a polarimeter (an instrument used to measure the wave properties of light) funded by the Science and Technology Facilities Council (STFC), that has the potential to affect future climate models.
University of Hertfordshire astronomers were making observations of the stars in search of new planets after mounting the 'PlanetPol' (polarimeter they designed and constructed to take extremely sensitive readings) on the William Herschel Telescope (part of the Isaac Newton Group of Telescopes) in La Palma in the Canary Islands, when their measurements became affected by a layer of dust.
The presence of the dust itself, which satellite images and modelling of the dust's movement show had originated from the Sahara and the Sahel, was not a surprise, but its behaviour was. Scientists normally assume that aerosols, including mineral dust, have random orientation in the atmosphere, but the team members say the polarizing affect the dust was having on the light could only be the result of dust particles being vertically aligned.