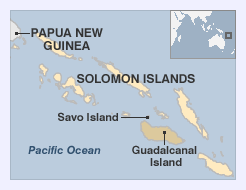 The Solomon Islands has declared a national disaster after heavy rain and flooding killed at least nine people.
Emergency workers say nine more people are missing on Guadalcanal island, and dozens have been evacuated from there and nearby Savo island.
Officials say they fear the death toll could rise as an estimated 1,800 people need urgent help.
The government has appealed for international assistance, with France and Australia promising emergency aid.