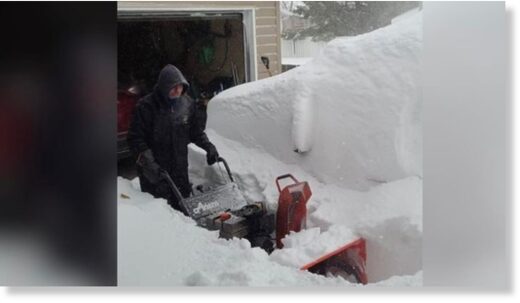 This weekend's snowstorm caused quite the ruckus in Central Saskatchewan communities, affecting businesses, sporting events and city streets.
According to online weather reports, North Battleford saw white-out like conditions where visibility was next to zero with 12-16 centimeters of snow and winds gusting up to 65 kilometers per hour. Elsewhere like La Ronge saw 19 cm with 54 km/h winds, while the west central part of the province experienced 16-20 cm with winds exceeding 60 km/h.
Melfort and surround areas saw nearly 25 cm of snow where winds gusted up to 60 km/h. In Tisdale, the wind and snow left people like Doug Tkachuk digging out eight-feet high snow drifts.
His wife, Val said he has been working non-stop clearing snow since Saturday afternoon.
"There was probably two feet of snow on top of his vehicle," she said.
"He went out a couple of times last night and when he came back in, he said, 'I'm going to wait til morning and I'll go out again' and when we woke up this morning we couldn't believe it. The snow was up to my waist."