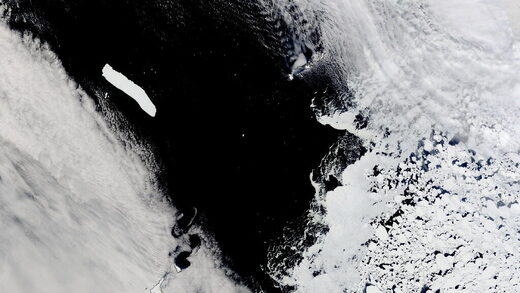 A new satellite image shows that the world's largest iceberg, A-76A, has entered the Drake Passage, a waterway that contains a fast-moving ocean current that will send the mighty berg on a one-way trip to its watery grav
After slowly drifting around Antarctica for more than a year and barely melting, the world's largest iceberg could soon be set on an accelerated course toward its eventual demise, a new satellite image reveals.
The gargantuan ice slab, known as A-76A, is around 84 miles (135 kilometers) long and 16 miles (26 km) wide. It is the largest fragment of the world's previous biggest iceberg, the Rhode Island-size A-76, which
broke off
from the western side of Antarctica's Ronne Ice Shelf in May 2021 and later fractured into three chunks: A-76A, A-76B and A-76C.
On Oct. 31, NASA's Terra satellite captured a photo of A-76A floating in the mouth of the Drake Passage, a deep waterway that connects the Pacific and Atlantic oceans between Cape Horn in South Africa and the South Shetland Islands to the north of the Antarctic Peninsula. The image shows that the girthy berg is currently sitting between Elephant Island and the South Orkney Islands (both obscured by clouds in the image) at the southern end of the passage, but its trajectory hints that it will head further north into the waterway in the coming weeks. The image was released online Nov. 4 by
NASA's Earth Observatory
.