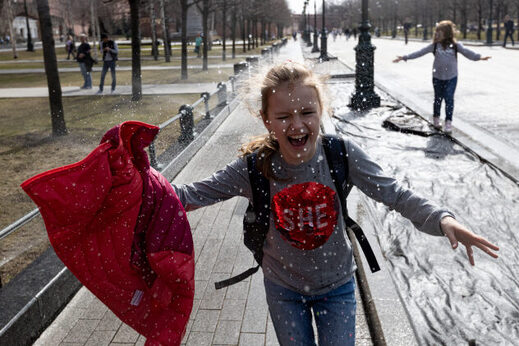 Temperatures in Moscow on Tuesday surged to levels not seen on that day for at least 140 years. The record warmth sent people flocking outdoors to enjoy the unusually warm conditions amid several days of summerlike temperatures.
On Tuesday, the high temperature in Moscow, Russia's capital and largest city, surged to 22.6 C (73 F), making it the highest temperature on April 13 in at least 140 years of observations,
Reuters reported
.
On Wednesday, another record was set as the temperature rose to 22 C (72 F). This broke the previous record of 20.8 (69.4 F) last reached in 1962, according to Russia's
Federal Service for Hydrometeorology and Environmental Monitoring
.
High temperatures in Moscow in the lower 20s C (lower 70s F) typically occur during the beginning of June.
The records were broken amid a stretch of warmth that took hold of a large portion of western Russia.
"Temperatures across a large portion of western and central Russia have been running above normal since about April 11," said AccuWeather Meteorologist Rob Richards.
The warmth on the region peaked from April 12 to April 14, with high temperatures 6-13 degrees C (10-20 degrees F) above normal.