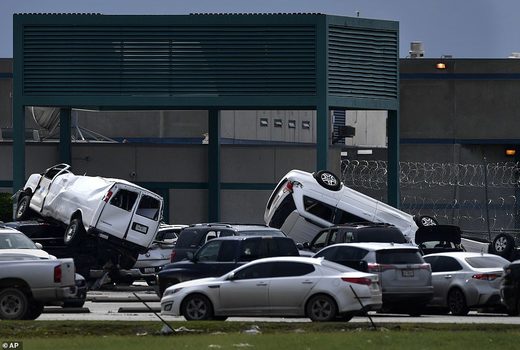 A severe storm system is battering the country, bringing blizzard conditions, tornadoes and thunderstorms, disrupting the lives of more than 10 million Americans.
On Wednesday night, several tornadoes hit towns in
Texas
, flipping cars and damaging homes.
The National Weather Service confirmed at least two tornadoes hit the Abilene area, west of Dallas, while another tornado later hit near the town of Alvord, 150 miles north.
While no fatalities were reported at either location, the damage was clear in Abilene, where where a van and SUV were seen stacked atop other vehicles in a parking lot on Thursday morning.
The tornado also ripped the roof off one home, according to
Fox 4
.
Meanwhile, aerial footage from Alvord showed the area scattered with debris and downed trees.