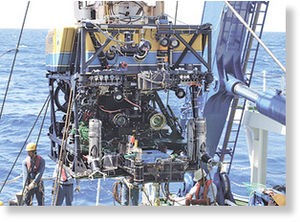 Geosciences professor Robert Stern's research has him scouring the depths of the ocean. But he's not hunting lost treasure. He and graduate student Julia Robeiro are studying volcanic activity beneath the sea.
With funding from the National Science Foundation, Stern and Robeiro undertook the first part of their study Feb. 2-7 analyzing underwater volcanoes in the Western Pacific.
Stern said he has always liked to discover new things. With few places on land to discover virgin territory, the seas were the logical place for Stern. Covering more than two-thirds of the earth's surface, there was no telling what mysteries the depths might reveal, he said.