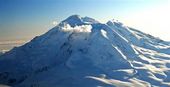 Anchorage, Alaska - The official alert level has been raised as Alaska's Mount Redoubt volcano rumbles again.
Geologists at the Alaska Volcano Observatory say a significant eruption does not appear imminent, but they raised the alert to orange, the stage just before eruption. They cautioned yesterday that conditions could evolve rapidly.
The 10,200-foot Redoubt Volcano is about 100 miles southwest of Anchorage.
Ash from the volcano could harm engines and is especially dangerous for aircraft. Ash blown to cities also can cause respiratory problems.