Miami - A new tropical depression formed on Tuesday near the Cape Verde Islands off Africa while storm Hanna drenched the Bahamas and Ike sped westward as Atlantic storm activity reached a frenetic pace.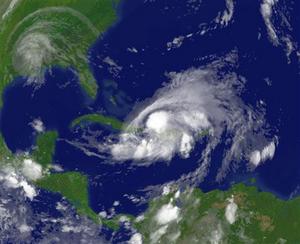 ©REUTERS/NOAA/Handout
Hurricane Hanna is seen southwest of Nassau in a satellite image taken September 2, 2008.
These followed on the heels of Hurricane Gustav, which began to dissipate on Tuesday after slamming ashore on the U.S. Gulf Coast near New Orleans the day before. The new tropical cyclones threatened vast areas, from South Carolina in the United States to the Caribbean islands.
The flurry of storms was the latest evidence that predictions for a busier than normal season were on the mark, and was worrisome news for U.S. oil and natural gas producers in the Gulf of Mexico, millions living in the Caribbean and on U.S. coasts, and farmers fearing flooded fields.