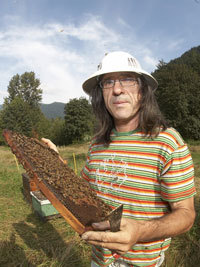 Jean-Marc Le Dorze is confounded by all the honeybees vanishing from his Mission apiary.
Kevin Statham photo.
What's happening to the bees? The fuzzy little honey-making critters are dying off like the dinosaurs, and no one knows why. In the U.S., according to a congressional report updated in June, up to 36 percent of 2.4 million bee colonies were wiped out last winter. Canadian beekeepers reported losses of one-third of this country's bees during the winter, including a 23-percent loss in British Columbia.