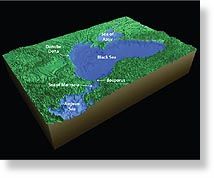 Did a catastrophic flood of biblical proportions drown the shores of the Black Sea 9,500 years ago, wiping out early Neolithic settlements around its perimeter? A geologist with the Woods Hole Oceanographic Institution (WHOI) and two Romanian colleagues report in the January issue of Quaternary Science Reviews that, if the flood occurred at all, it was much smaller than previously proposed by other researchers.
Using sediment cores from the delta of the Danube River, which empties into the Black Sea, the researchers determined sea level was approximately 30 meters below present levels-rather than the 80 meters others hypothesized.
"We don't see evidence for a catastrophic flood as others have described," said Liviu Giosan, a geologist in the WHOI Geology and Geophysics Department.