It's rare that an animal garners comparisons to Stalin and Mussolini, but dominant male baboons practice a form of leadership not so different from dictators.
Troupe members follow their leader to a food site even though some get denied a meal, a new study of wild baboons finds.
On a scientific level, the study exposes a flaw in some theoretical models of group behaviour, which conclude that, given equal information, social animals make democratic decisions.
More practically, the research might hold some relevance to modern politics. Baboons showed the blindest devotion to leaders with whom they formed a social bond, a baboon they could believe in.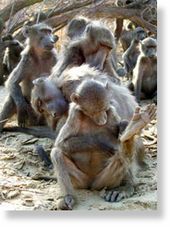 "We've still got this evident bias for why we choose certain leaders," says Andrew King, a behavioural ecologist at the Zoological Society of London who led the study. "It might help us understand why we have certain biological biases to picking certain leaders."