One of the most important developments in human civilisation was the practice of sustainable agriculture. But we were not the first - ants have been doing it for over 50 million years. Just as farming helped humans become a dominant species, it has also helped leaf-cutter ants become dominant herbivores, and one of the most successful social insects in nature.
According to an article in the November issue of
Microbiology Today
, leaf-cutter ants have developed a system to try and keep their gardens pest-free; an impressive feat which has evaded even human agriculturalists.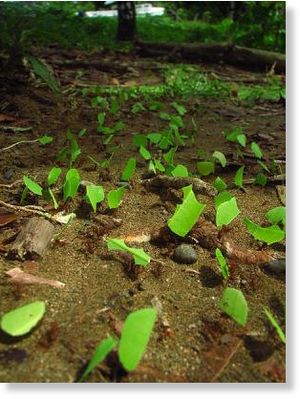 Leaf-cutter ants put their freshly-cut leaves in gardens where they grow a special fungus that they eat. New material is continuously incorporated into the gardens to grow the fungus and old material is removed by the ants and placed in special refuse dumps away from the colony. The ants have also adopted the practice of weeding. When a microbial pest is detected by worker ants, there is an immediate flurry of activity as ants begin to comb through the garden. When they find the pathogenic 'weeds', the ants pull them out and discard them into their refuse dumps.