Heavy rain continued to take its toll on southern Japan on Saturday, with a man drowning in a flooded rice paddy, and four others injured in flood-related accidents. Thousands had to evacuate their homes.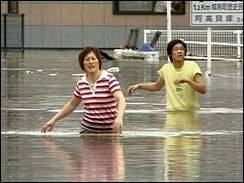 ©AP Graphics Bank
People wade through flooded street, Misato, Japan.
By midday Saturday, a powerful weather front had dumped over 20 inches of rain on southern Japan since Wednesday, according to the Meteorological Agency.