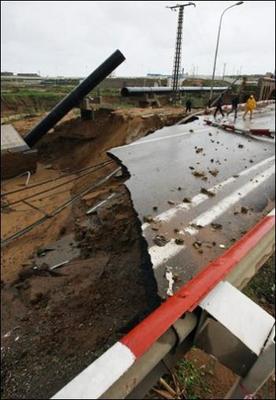 ©AFP
Algerian officials and rescuers check a collapsed bridge.
Flooding from five days of heavy rains in northern Algeria has claimed 11 lives and three more people are missing feared dead, officials said Wednesday.
Four people died in the northwestern Mediterranean city of Oran when their old houses collapsed on Tuesday and Wednesday, head of civil protection Houari Saadaoui told public television.
Their deaths brought to 11 the number of people confirmed to have died in weather-related incidents since the heavy rains began to sweep across northern Algeria on Saturday.