An extremely rare albatross has been seen for the first time ever in Britain after it lost its way in bad weather.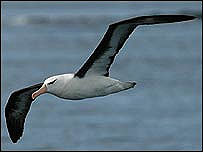 ©BBC
The young yellow-nosed albatross, which has only been seen once in Europe, was found at a holiday camp exhausted.
Camp owner Hugh Harris, 76, said: "It was most unusual. It was just squatted down - I think it was absolutely worn out."