Torrential rain and thunderstorms struck Britain on Friday, causing travel chaos, forcing television stations off the air and delaying a cricket match between England and India.
At London's Heathrow airport, 141 flights were cancelled, 25 stations on the London Underground were closed because of flooding and rail company First Great Western advised travellers against taking the train.
"Even if the flooding subsides, all our trains will be in the wrong places and there will still be severe delays," said a spokesman for the operator, whose services in the west of England were badly hit.
Homes around England and Wales faced flash flooding and police reported a slew of weather-related car and truck crashes.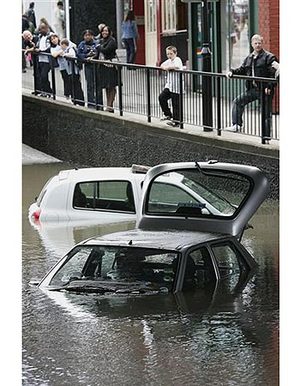 ©AP
Sweeping in from the south-west, the rain struck first in southern and central England and Wales.