A few warm, springlike days might sound appealing if you live in the frigid Arctic Circle.
But a rise in temperature can spell doom for native peoples and the caribou, musk-oxen, and reindeer that they depend on in Earth's northernmost regions.
That's because a mysterious phenomenon known as "rain on snow," when sudden warm air turns northern snows to rain or slush, can cause animals to starve.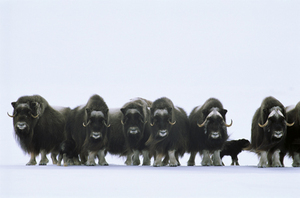 ©Norbert Rosing/NGS
Musk-oxen huddle together during a snowstorm in Canada's frigid Northwest Territories.

A strange phenomenon known as a "rain on snow" event, in which warm rain freezes into a solid layer of ice on the ground in winter, killed off a quarter of the region's musk-oxen population in 2003.

Scientists are still working to figure out why and when these elusive incidents occur.