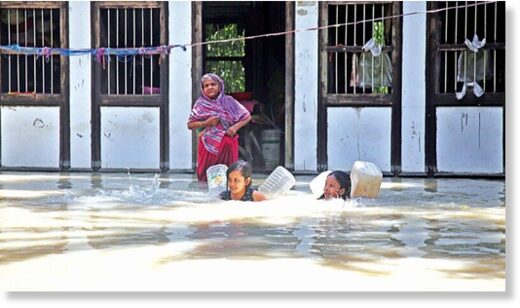 Jamuneswari breaks 7-decade record, Karatoa flows 4-decade high as India opens barrages
Over four lakh people got freshly affected by flood over the Eid holidays as the total number of flood victims crossed 5.5 million until Tuesday, 39 days after the monsoon flood hit in late June, with 145 flood-related deaths so far.
Government disaster responders and flood victims said that the overall flood situation remained largely unchanged except for the rapid deterioration in the flood situation in parts of north as India continued to release huge volumes of water through two barrages built in Uttar Dinajpur.
A Flood Forecasting and Warning Centre report showed that 17 rivers flowed above their danger marks at 27 places as their water levels registered a slow fall over the 24 hours until 9:00am Tuesday.