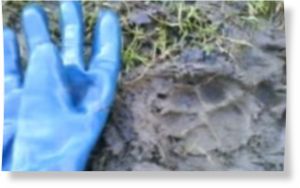 Two tree surgeons have today spoken of their shock and amazement after claiming to have seen a cat 'the size of a labrador' emerge from under the willow they were felling.
John Vine and Nick Cole were trimming the tree near Gloucester, when they saw the creature come out of thicket.
They managed to photograph the big cat's paw print following the sighting earlier this week.
Mr Vine, 49, said: 'I was working 50ft up in tree when Nick shouted to me to look down to my left.