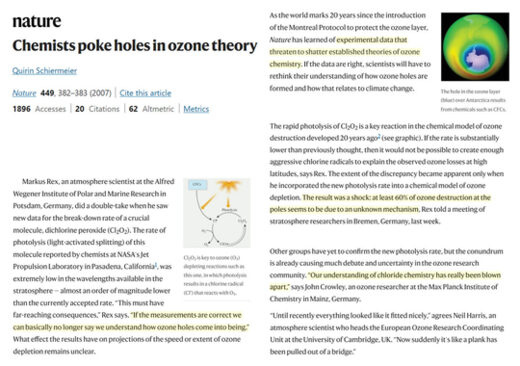 The increasing loss of ozone (O3) from 30°N - 30°S has steadily accelerated since the early 1980s despite the 1987 Montreal Protocol's ban on so-called "ozone depleting substances" like chlorofluorocarbons (CFCs). Once again this suggests human activity does not drive ozone losses.
Twenty years after the Montreal Protocol agreement limiting or banning CFC use scientists
reported
an order-of-magnitude-sized error in molecular chemistry measurements that threatened to severely undermine the commonly accepted anthropogenic explanation for how ozone depletion occurs.
With the new measured evidence, a leading ozone researcher proclaimed the scientific
"understanding of chloride chemistry has really been blown apart," as "we can basically no longer say we understand how ozone holes come into being."